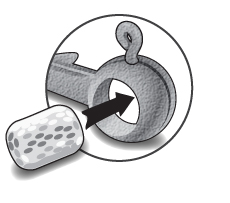 The first jig head that holds your scent in place.
Add scent & color by placing scent in the eye hole of the lure. Locking the scent in place, allowing you to catch multiple fish on just one scent. Any scent can be used, but we recommend using Crappie Magnet® Slab Bites as they last longer than other scents.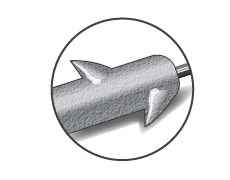 Double Cross® side-barbs hold any jig body longer!
Our side-barb design holds lures tighter and longer while not impeding the hook gap.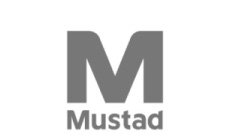 Made with quality Mustad® hooks.
Custom made Mustad hook featuring UltraPoint technology. Mustad hooks are sharp and durable. Hook sizes are:
1/16oz jig head, size 2 hook

1/8oz jig head, size 1 hook
 The Fin Spin® blade spins on both the fall & retrieve.
This feature is only on the Fin Spin Eye Hole.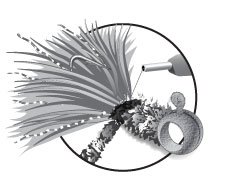 Hair Jigs are hand tied.
This feature is only on the Eye Hole Hair Jigs.
Round Head
Traditional round head design these heads are perfect for multiple techniques from long-lining to dock shooting and everything between.
Minnow Head
The minnow head style gives off a more realistic silhouette in clear water. Also works well in heavier current situations to get the baits down quicker.
Hammer Head
BRANDON SMITH SERIES

Designed by accomplished tournament angler, Brandon Smith this head has flat wider surfaces that not only hold more scent but give off a better return for the forward facing sonar users.
Pill Head
A faster dropping head for when the current or wind is an issue. The flattened round head mimics a big eye and cuts through the current better.
Hair Jigs
Combining a hand-tied jig with the Eye Hole Scent Holder Jig. The 1/32oz head has a slower fall rate that triggers strikes while also holding your scent in place.
Fin Spin® Eye Hole
Combining the best of the Fin Spin® Jig Head, the Eye Hole® Scent Holder Jig, and the Double Cross® Jig Head.
FOR BEST RESULTS
Works great with any plastic body and scent!
Guide the hook through the center of the plastic body, push the body on straight and tight against the jig head. The hook should come out the top of the body or split of tail.

Press your scent into the eye hole, using just enough scent to fill the hole.
We recommend using the Crappie Magnet® or Slab Curly® with this jig head.
Great for Rivers, Lakes, Streams & Ponds!
The Eye Hole® was originally designed for crappie, but works great for all species of fish. Wherever you're fishing, the Eye Hole® will catch anything on the lake, river, stream or pond!
We take pride in not just selling a great lure, but also in teaching how to better fish our products. Watch the videos on the product pages to learn about our products and how to use them for best results.
We genuinely hope our products help you in making many great memories.
Sore Lip'Em All!
Blake and Resee Phillips
Inventor of the Eye Hole®
Resee and I started fishing crappie tournaments with the goal of having fun and being competitive. Those were her stipulations, and good ones at that. We found that when we used scent pellets, we would get more bites and catch more fish. The problem was that the scent wouldn't stay on the hook and was too time consuming to replace after every catch. They frustrated Resee so much that she began hiding that she wasn't using them. I don't blame her, but the fact that her catch ratio plummeted when she wasn't showed that they work. There must be a better way to use scent pellets, and then it occurred to me: why not where the eye goes? When we got home, I started playing around with different jig heads to see if it would work. I was astounded that it did! Not only did it stay in for multiple casts, but for multiple catches as well. We have come a long way since that first prototype Eye Hole® Jig.
We are excited to partner with Leland's Lures® to bring you the best of the Eye Hole® Scent Holder Jig Head and the Double Cross® Jig Head. This new Eye Hole® jig design holds your scent in place by inserting the scent into the eye hole of the jig head, and the Double Cross® side-barbs hold your jig bodies on tighter and longer, making for a perfect combination. The Eye Hole® Jig has exploded in popularity across the country, and we are forever grateful to everyone who has helped us along the way!
Have a great day on the water!
Blake and Resee Phillips